Home
UNIVERSITY CLUB (Incorporated 1923)

Dunedin, New Zealand

*** Effective from 20th March 2020, Friday luncheon meetings of the University Club have been suspended indefinitely due to the Covid-19 pandemic. Watch this space for details of when luncheons will resume.
We would like all members to keep safe, and follow Government guidelines on health and personal contact. We look forward to seeing everybody again in the near future. ***
A club formed to promote good relations between "Town and Gown" affirmed in 1991 by the presentation to the club of miniature shields of the Coat of Arms of the City of Dunedin (the "Town') and crest of the University of Otago (the "Gown") for display at club meetings.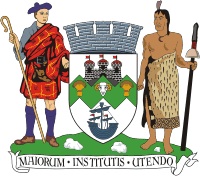 City of Dunedin and University of Otago